April 2002 Patuxent Nation

Can you believe it is near the end of the school year? That means it's also getting close to our annual Camp Lett's trip!!! I can't wait…this will be my 6th year. I look forward to going there every year For some of us, it will be their 1st time at Camp Lett's, while for others, it may be their last time as they graduate from Indians and move on to other things. For those 3rd graders, you can stay in Indians next year!
A few things we are planning at Camp Lett's are: early Saturday morning canoeing, Indian Olympics, Camp fires, Ice Cream Social, scavenger hunt, horseback riding, and last but not least….turtle racing.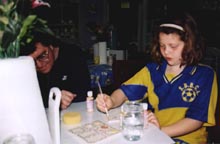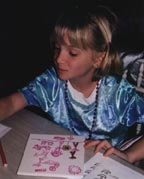 Last month, we met at the Bowie Folk Art Studio. All of the kids created and painted tiles. What wonderful artists we have!!! It's amazing how that when you create your tile, the colors change so much after they are "fired".
Upcoming Nation Events: (details on following pages)

May 12 – Sunday, 1–4pm
Wye Island Natural Resource Mgmt Area
Nature & Wildlife Walk.

Come see the Bald Eagles!
Bring your water, sneakers/walking shoes and also binoculars if you have them
We can all leave together/caravan at noon! Call me @ 301-805-4640

June 1, 2 –
Saturday 12-6pm
Sunday 12-5pm
20TH Annual Piscataway Festival and Powwow

Check your emails for more details and information

June 9 – Sunday, noon
Leakin Park, Chief's Cookout in Baltimore
Ride the Trains and have a picnic!
June 14-16 Camp Letts
Check your mail in the next few days for information
---
Here a few riddles for you:
Which has more lives, a cat or a frog?......................................... A frog, because it croaks
every night!
What did the father firefly say to the mother firefly? ..................You know, dear, I think
Junior is very bright for his age.
What do you get when you cross a centiped with a mynah bird? ……A walkie-talkie!
What happens when you throw a green stone in the red sea? ..............It gets wet!
Here's a good tongue twister for you:
Betty Botter had some butter, "But," she said, "this butter's bitter.
If I bake this bitter butter, it would make my batter bitter.
But a bit of better butter--that would make my batter better."
So she bought a bit of butter, better than her bitter butter,
and she baked it in her batter, and the batter was not bitter.
So 'twas better Betty Botter bought a bit of better butter.
---
A valuable lesson for Indians of All Ages!
Twigs, from The Tales of Running Deer, by Douglas Monahan
"What lesson do you have for us tonight, Running Deer?" Little Bear and Red Fox voiced the question at the same moment. Other Indian boys gathered around Running Dear's fire, waiting for the answer. They had gathered, as was the custom, around the wise man's fire to listen and to learn.
"I would speak his night," responded Running Dear, "of a matter that affects us all – the importance of good habits. We all have habits. We must be sure then that our habits are good friends that help us live better lives and not enemies that bring unhappiness and problems."
"What are some good habits, Running Deer?" asked Red Fox.
Running Deer looked into the young faces before him and replied: "It is better for you to answer this question than me to give the answer. Tell me, what habits do you think are your good companions on the trail of life?"
"Honesty is one, I think." Answered a young brave sitting across the campfire circle. Soon a chorus of voices offered answers.
"We have made ourselves this night a good list of habits that can be counted on as friends to help us live good lives. You have done very well." Running Deer spoke with appreciation.
"Running Deer, the twigs you have beside you there – what are they for?" questioned the ever curious Red Fox.
"They are part of tonight's lesson. Watch and listen. I hope you will allow them to teach you about habits – good and bad." Running Deer picked up the first of the twigs. "Each of these twigs – we shall give the name of a habit. What shall the first one be called?"
"Anger," suggested a young voice. "Anger it is then," Running Deer announced. With this he easily snapped the twig into two pieces. "You see how a single habit can be broken with only a small effort?" he said.
Picking up two twigs, and with more effort, he broke them. "You see, two combined are harder to break. Watch closely now," he continued, this time picking up three twigs. Breaking the three together proved more difficult. Continuing, Running Deer added another twig and this time four were broken together. Each time he continued, adding another twig until he came to a number that he could not break despite his hardest effort.
"You see," Running Deer continued, "I have now combined so many twigs that I can no longer break them. This is true of habits also. A combination of several habits – for instance, anger, dishonesty, impatience, laziness, untruthfulness – can become too strong for a brave to break all at once. Be sure that your habits are good ones that need no breaking," Running Deer challenged the young braves.
"Running Deer," the voice was that of Little Bear, "By breaking one at a time, the entire bundle can be broken, can it not?"
"True, my friend," answered Running Deer, "This is another lesson we learn from our twigs. If you have bad habits to break, work on them one at a time until all are conquered. It is true also that good habits can be achieved best one by one."
---
Wye Island Natural Resource Management Area http://www.dnr.state.md.us/publiclands/eastern/wyeisland.html
Wye Island NRMA is located in the tidal recesses of the Chesapeake Bay between the Wye River and the Wye East River. Of Wye Island's 2,800 acres, 2,450 are managed by the Department of Natural Resources State Forest and Park Service for agricultural and resource management. A major emphasis at Wye Island is to provide suitable habitat for wintering waterfowl populations and other native wildlife. With over 30 miles of shoreline another resource management project is stabilization of the ever eroding shoreline.
Wildlife viewing and hiking are the most popular activities on the approximately six miles of trails. The most popular trails are the School House Woods Nature Trail, the Wye Island Holly Tree Trail, and the Ferry Landing Trail. The topography of the island is relatively flat making access to the trail system very easy for all users, from the novice to the advanced hiker. Visitors can see a variety of birds and wildlife including ducks, geese, wading birds, Bald Eagles, the endangered Delmarva Fox Squirrel, whitetail deer, and many other species.
DIRECTIONS:
From Bay Bridge (East bound): Travel 12.5 miles eastbound on Route 50 and turn right onto Carmichael Road. Travel 5.1 miles on Carmichael Road till you cross the Wye Island Bridge. From the Wye Island Bridge, travel south on Wye Island Road for approximately 4.2 miles. Numerous public parking areas are available along Wye Island Road.

---
Leakin Park http://calslivesteam.org/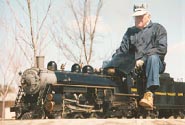 Miniature steam trains----------But today, in Baltimore's LEAKIN PARK, everyone can now discover the lost age of steam railroading. You will find our railroad station and a 2-track main line. Our large scale trains carry passengers with ease. The trains are 1/8th full size and are mostly pulled with coal burning live steam locomotives. You can park near the station platform. As you ride through the park our trains will carry you around both our Northern and Southern Divisions and past our yards and buildings. Rides are free!
DIRECTIONS: From the south get onto I-695 (Baltimore Beltway) exit at exit 16 stay in the right lane toward Security Blvd. Exit to the right onto Security Blvd. Turn right at the first light onto Forest Park Ave. Turn right at the next light onto Windsor Mill Road. The park will be on the right. Enter between the eagle topped stone gate posts and park on the left.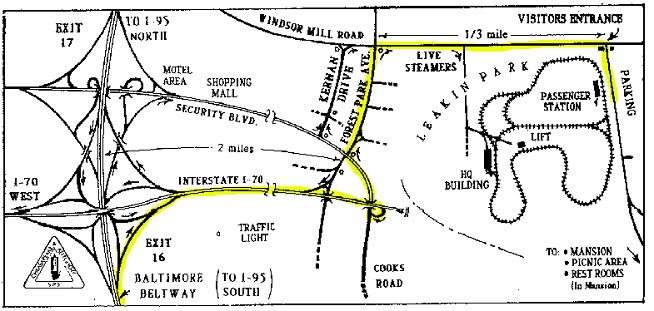 ---