October 2001 Patuxent Nation
Welcome to the Patuxent Nation! Thank you to all who came to the Induction Ceremony at the Y. It was a beautiful evening for the campfire. I enjoyed seeing all that could make it. This year we have many exciting activities and events planned. Keep on the lookout for the Talking Stick for dates, times and locations of all nation events. Don't forget, that in November, we will be having our annual Sleep-over at the Y. I am trying to finalize the date around November 16th/17th. Keep your eyes posted for the next newsletter.
Fall has started and I hope you are all enjoying it. The trees are beginning to turn. Last weekend, I was up near Cumberland, Md. and the trees were changing colors each day. I hope some of you will get a chance to go to Skyline Drive to see the colors. This is the time of year that animals are getting ready for the upcoming winter. Have you noticed any squirrels gathering nuts? How about geese flying south for the winter? Keep your eyes open…..you'll be amazed at what you may see.
This year has started off well with both Tribes having their kick-off meetings. The returning Chitimacha Tribe made some great gourd people. The new tribe met for the 1st time and made emblem shields for themselves. They are currently deciding on the name of their tribe.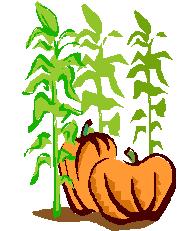 This month's nation activity will be a Pumpkin Patch/Hayride on October 20th , 2pm at Darrow Berry Farm. There is so much that one can do….a hayride to the pumpkin fields, a barnyard of animals, Pumpkinland, scarecrow making, pony rides, face painting, and the Moon Bounce. Please note: all activities except the barnyard animals have a nominal cost.
To get to Darrow Berry Farm:
· Take Rt 450 east
· Take a right on Rt 193 (at Frank's Garden Center)
· Take 1st left on Bell Station Rd
· The farm is ½ mile on left (duck pond out front)
This is an all-family, all nation event……..everyone is invited.
Through Life Together
Here is a short story in American Indian Sign Language that says a lot. Can you decode it?